.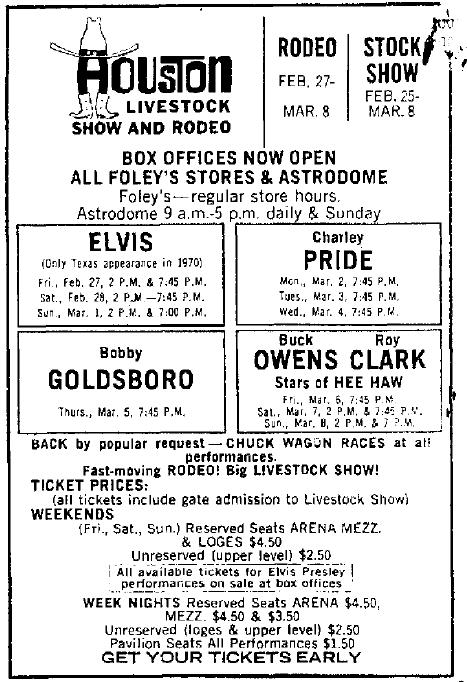 The Deer Park Progress (February 19, 1970)
Source: http://www.elvisconcerts.com
Houston, February 27 - March 1, 1970
Elvis arrives on February 25, 1970 with the private plane of Kirk Kerkorian
A brief press conference at the airport on 25 February:
Houston Press Conference February 25, 1970
.
.
Posted on YT by MrMazins1
The first performance on 27 February, including the entrance to the arena:
February 28, leaving after the evening show:
Various:
CONCERT DATE: February 28 1970 (7:45 pm). Houston TX.

Elvis Brings down House At The Dome

by Charles Garder

Houston Post

March 1, 1970

Elvis Presley brought down the house and all the attendance records of the houston Live stock Show and Rodeo came tumbling down on the shoulders of his white shirt Saturday night at the Astrodome.

Presley, the entertainment sensation of 15 years ago, is making his first public appearance in 10 years and he proved his audience appeal still exists, at least in Houston.

The largest crowd ever to attend a rodeo performance to Houston - 43,614 screaming fans - were present Saturday night for the rodeo and Elvis' fourth of six performances.

He had drawn the largest matinee crowd - 34,443 Saturday and his two performance total excceded by 3079 the two-performance total attracted by Roy Rogers and Dale Evans here two years ago.

Elvis returns for two shows at 2 and 7 pm today and tickets are still available for both performances.

The four performances in wich Presley, his band and vocal grouphave appeared have drawn a total of 131,064 people to the Astrodome.

It is by far the greatest start that the Hosuton event has made since it moved to the Dome in 1966. The show's attendance record was established in 1968 and through Saturday night of that year a total of 117,695 people had attended five performances, one more than this year.

The attendance records are, of course, world marks for indoor rodeo events.

Presley who has never been known as a talker on stage, probably expressed it perfectly Saturday night when he commented:

"You have been a fantastic audience," he said prior to introducing his associate in the 45-minute show.

Police are stationed around the arena to keep the audience away from Elvis but Saturday afternoon, a fan sneaked in through the rodep chutes and was within a few feet of the star when he was apprehended by police.

The giant audience was alsoan inspiration for the cowboys.

Jimmy Dix took the first go round lead in the bareback competition. Bernard Betz grabbed the lead in the calf roping event and Dan Willis moved to the front in the Brahma bull riding.

Courtesy of Sebastiano Cecere
Taken from the fantastic site http://www.elvisconcerts.com, where you'll find much more information and articles about these Houston concerts and many others...
Houston Astrodome, 1970.
.
.
Posted on YT by MrMazins1
Elvis Presley At The Dome - Record Houston Texas March 1, 1970 Song list

1.All Shook Up

2.I Got A Woman

3.Blue Suede Shoes

4.Dont Cry Daddy

5.Heartbreak Hotel

6.Hound Dog

7.Love Me Tender

8.Kentucky Rain

9.Ralease Me

10.Walk A Mile In My Shoes

11.In The Ghetto

12.I Cant Stop Loving You

13.Polk Salad Annie

14.Introductions

15.Suspicious Minds

16.Cant Help Falling In Love

17.Love Me Tender(Instrumental

.

.

.

.

.

.

.

.

.

.

.

.

.

.

.

.

.

.

.

.

.

.

.

.

.

.

.

.

.

.
Posted on YT by petri10000001
Press Conference March 1, 1970 after the evening show:
Elvis received five new gold discs by Vice-President RCA Rocco Ginestra:
Departure from Houston March 2:
Sources
https://www.youtube.com/user/petri10000001/videos?spfreload=10
https://www.youtube.com/user/MrMazins1/videos
http://www.elvisconcerts.com/newspapers/news1970.htm
http://www.elvisconcerts.com/newspapers/press410.htm
https://pp.vk.me/c402117